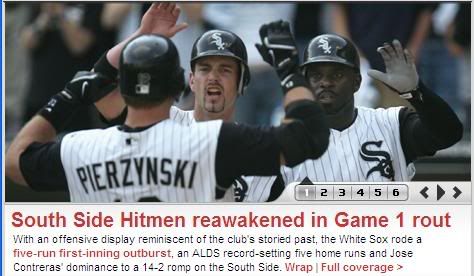 Sometimes you have to stop and smell the roses. Or tiptoe through the headlines.
Today's poll on the White Sox web site:
Who poses the biggest Divison Series challenge for the White Sox?
Angels 51%
Red Sox 30%
Yankees 19%
It's a beautiful day when the White Sox faithful can disparage the Yankees and Red Sox.
From our very own
Chicago Sun-Times
:
Crazy like a Sox
Okay, that one is about manager Ozzie Guillen.
From the
NY Times
:
Early Swagger Belongs to White Sox
At the end of the first inning, they were down by five runs. At the end of the sixth, they were down by 10. At the end of the game, they were down 1-0 in this best-of-five series, having suffered the most lopsided loss in their postseason history


From the
Indianapolis Star
:
Last year Red Sox, this year White?
Headlining the
Reuters sports page
:
White Sox trounces Red Sox in series opener
That's the headliner! On Reuters! The White Sox! Alright, let's go across the other ocean and see what they're saying.
From the
Asahi Shimbun
:
MLB/American League Division Series White Sox chase first title since 1917
As always, the restrained Japanese sum up history in a pithy headline.
From the
Los Angeles Times
:
WHITE SOX 14, RED SOX 2
Chicago Socks It to Boston Early, Often
"I have no excuses," Clement said. "I was bad. They took advantage of a guy who was struggling."
"We wanted to get him [Clement] further in the game," Francona said, adding later, "It fell apart in a hurry."
Seattle Times
:
Bet on it: White Sox will win it all
Maybe you shouldn't read too far into this one. Seattle Times reporter Larry Stone goes on to predict that San Diego will topple St. Louis. However, he does recover himself nicely at the end:
When it ends, the White Sox will be dancing down Michigan Avenue. Next year, the Cubs. Nah. White Sox in 7.