OBR UK GDP Forecasts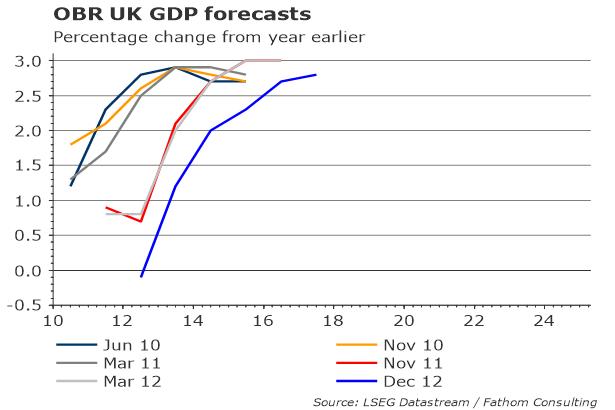 The Office for Budget Responsibility has cut back UK economic growth forecasts repeatedly, raising the spectre of fresh austerity measures.
The Office for Budget Responsibility is starting to look like an organisation that is systematically disappointed by the performance of the UK economy. As this edition of Chart of the Week shows, there has been a sequence of downward revisions to the OBR's growth profile since their inception. Indeed, their latest forecast for growth in 2012, at -0.1%, is 2.9 percentage points shy of the 2.8% growth they had at first pencilled in for this year in June 2010.
Looking forward, while the OBR's most recent forecast is at least more realistic, it continues to assume a persistently large negative and output gap, and a steady rise towards growth rates of 3%. If these forecasts turn out to have been overoptimistic, as has previously been the case, the UK government may be forced into fresh austerity measures.